Department Oceanography at IUP Bremen
About us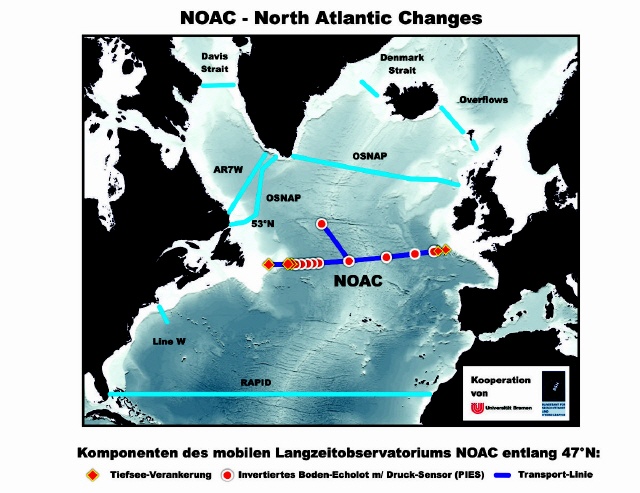 The Department of Oceanography is located at the Research Division 1 of the University of Bremen and is part of the Institute of Environmental Physics (IUP). Many of our Team members are also part of the Research Faculty MARUM.

The ocean influences our climate in many ways. Oceanic currents transport large amounts of heat around the globe and cause an additional heating or cooling of the continents. The ocean takes up considerable amounts of greenhouse gases that otherwise would be stored within the atmosphere and thereby would contribute to the heating of the atmosphere. We investigate changes in these climate-relevant processes in the ocean by applying a wide spectrum of modern experimental methods and oceanic mobile long-term observatories like the NOAC array presently installed in the North Atlantic along 47°N and further extended in the near future.
Funding
Our research is part of national and international programmes and is mainly funded by the German Federal Ministry of Education and Research (BMBF), the German Science Foundation (DFG), and the European Union (EU).
Service
We offer the following service for research institutes and companies:
analysis of chlorofluorocarbons in sea water and gas samples
helium and neon isotopes analysis of water and gas samples
analysis of tritium concentrations